News
We've got lots to talk about! Check here for all the latest news and announcements.
Teacher Interview Fair
Interested in teaching in our district? Come to our teacher interview fair on Saturday, February 25! You can set up an interview between 9:00 a.m. and 1:00 p.m. at West Point High School.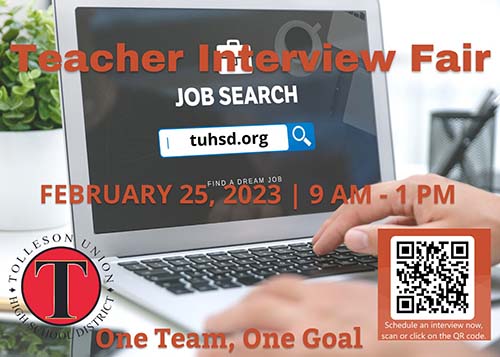 WeGrad Information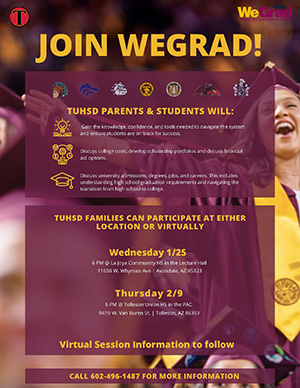 Join WeGrad! TUHSD parents and students will:
Gain the knowledge, confidence, and tools needed to navigate the system and ensure students are on track for success.
Discuss college costs, develop scholarship portfolios, and discuss financial aid options.
Discuss university admissions, degrees, jobs, and careers. This includes understanding high school graduation requirements and navigating the transition from high school to college.
TUHSD families can participate at either location or virtually. There will be a meeting on Wednesday, January 25, 2023, at 6:00 p.m. at LaJoya Community High School in the lecture hall at 11650 W. Whyman Avenue in Avondale, Arizona, 85323. There is also a meeting on Thursday, February 9, 2023, at 6:00 p.m. at Tolleson Union High School in the PAC located at 9419 W. Van Burn Street in Tolleson, Arizona, 85353. The virtual session information will follow. Call (602) 496-1487 for more information, or view the WeGrad flyer.