News
We've got lots to talk about! Check here for all the latest news and announcements.
Freshmen on FIRE Summer Camp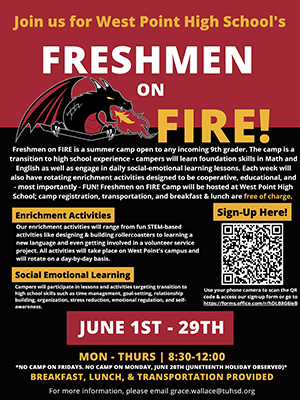 Freshmen on FIRE is a summer camp open to any incoming ninth grader. The camp is a transition to high school experience: campers will learn foundation skills in math and English as well as engage in daily social-emotional learning lessons. This free camp begins on June 1 and will run Monday through Thursday from 8:30 a.m. to noon. The camp will also be providing transportation, breakfast, and lunch! Space is limited, so register today using the link below or by scanning the QR code. For more information, please email Grace Wallace.
2022 TUHSD Graduation Schedule
We are excited to announce the graduation schedule for the class of 2022. This schedule lists the graduation dates and times for each of the high schools in the district. To view the schedule, please see the document below.
2021–2022 School Year Emergency Relief and COVID-19 Mitigation Update
Elementary and Secondary Schools Emergency Relief (ESSER III)
The Arizona Department of Education (ADE) has received funding through the American Rescue Plan (ARP) Act to provide new Elementary and Secondary Schools Emergency Relief (ESSER III) Fund grants to LEAs to support local recovery needs and efforts in response to COVID-19. For more information, please see the ESSER III PowerPoint in its entirety.
COVID-19 Mask Update
As of Monday, October 18, 2021, all persons, including but not limited to staff, students, vendors, visitors, and volunteers, shall wear a cloth face covering while indoors on any district property, in any district facility, at any district event, and in any district vehicle, including district buses or vehicles rented or leased by the district.
A partir del lunes 18 de octubre de 2021, todas las personas, incluidos, entre otros, el personal, los estudiantes, los proveedores, los visitantes y los voluntarios, deberán usar una cubierta de tela para la cara mientras se encuentren adentro de cualquier propiedad del Distrito, en cualquier instalación del Distrito, en cualquier evento del Distrito, y en cualquier vehículo del Distrito, incluidos los autobuses del Distrito o los vehículos alquilados o arrendados por el Distrito.
Important Information Regarding Masks on School Buses
We are fully committed to everyone's health and safety. As we prepare for the next year, please see our letters to parents below regarding bus mask policies.